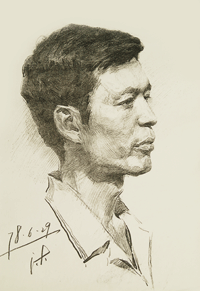 I was born in Guangdong China. I started painting and participating in art shows in China at an early age. I attended the Qingdao Oceanographic University and earned a B.S. degree in Meteorology. Later I became a vocalist accidentally. I never stopped painting at any point in my life, even during the Cultural Revolution.

My Mentors and Inspirations
In 1971 I moved to Beijing and, later met my wife. My father-in-law, General Li, befriended many artists and collected a great deal of Chinese contemporary art over the years. With my father-in-law's blessing, I was able to study all of these great works and to become very close to many well-known artists in China. These included: Liu Hai Su, painter and professor, the founder of the first art school in China- the Shanghai Fine Art School, and the former President of the Nanjing Art School; Wu Zuo Ren, painter and professor, former president of the Chinese Artists Association and the China Central Academy of Fine Art; Lu Yan Shao, master landscape painter and professor at Zhi Jian College of Fine Art; Guan Shan Yue, Lin Nan style painter and professor at the Guang Zhou College of Fine Art; Ya Ming, painter and former president of the Nanjing Academy of Chinese Painting. These masters had a profound affect on my artistic development, especially my teacher Lu Yan Shao.

After many one-man shows in China, I traveled to US in 1988. Upon my return to China, I exhibited for the first time my signature style of blending the philosophy and technique of Chinese painting with western art concepts. These paintings were inspired by western landscapes I had admired during the visit. This exhibition was held at the National Museum of Fine Arts in Beijing, and was highly acclaimed by the art critics in China.

My Philosophy
I consider the brush-stroke the essence and the language of Chinese Painting. And though ever mindful of the tradition of my training, I have found my own expression with my brush. In my landscapes, I use ink and gouache in many layers to give the painting texture and depth, and sometimes paint on both sides of the absorbent rice paper. I call this technique " Heavily-Colored Free-Hand Chinese Painting". Inspiration for my landscapes started in China with Huang Shan (the Yellow Mountains), the Great Wall and the Yangtze River and continue in America with the Grand Canyon, the Pacific Coast and New England.

I love to travel, always observing the light and the intricate structures and colors in nature. I gather these images and my responses in my paintings.

I love music. I recorded two albums of songs. I often relate music to painting, stating that they both have their origin in the heart and spirit of the artist and that they are both expressions of nature and life.

Migrating to America
I immigrated to Boston in 1991, and was later joined by my family. Over the past years I had exhibited in the Boston area, Los Angeles and New York City. I devote my love and passion to teaching. I am fortunate to have many students in Boston area, and they have organized as the Chinese Painting Guild (CPG www.chinesepaintingguild.com). The CPG has coordinated many shows, workshops, lectures and trips to China.